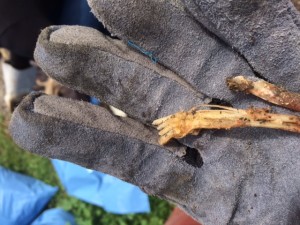 After many years of neglect, the forgotten animals of the abandoned cat colony in Beamsville are finally getting the attention and the care they deserve.
August 7, 2017 09:00 AM Eastern Standard Time
BEAMSVILLE, ON – News of the abandoned cat colony in Beamsville, ON hit the community hard and Beamsville 4Paw Rescue has been in the thick of things for the last few weeks now. They are now sharing, in a public statement, the role they have played in the rescue initiative – when they came in, where it stands and what's to come.
When news broke of the abandoned cat colony, Leslie McGlenister at Animal Assistance of Niagara contacted Pam, founder of Beamsville 4Paw Rescue, to go on-site and check out the scene and offer help. Since July 21, Pam and her team, as well as Dinah Nichol who recently joined forces from a newly formed group called Project Save a Cat's Life (PSACL – a fundraising group that has been helping raise money for the abandoned cat colony), have been on-site almost 14 hours a day strategically laying out food, professionally trapping and cleaning up the property of both live and dead animals. Since arriving on-site, Huson, the property owner and many others in the community have been calling the Lincoln County Humane Society (LCHS), and the Ontario SPCA (OSPCA) to help with the rescue, in hopes of them laying animal cruelty charges.
On July 26th Andrea Bergers from the OSPCA arrived at the location and spoke with Huson. Bergers stated that an investigation couldn't take place as all they can only recognize the cats are strays. Huson offered to send photos of what was already found on the property as well as provide the many bags of deceased animals (gathered from the premises, not from inside the residence) but they said they didn't need them.
On July 27th CHCH contacted Andrea Bergers for a statement. It was then that the OSPCA and the LCHS stated that they are, in fact, going to start an investigation.
"It's been an exhausting few weeks," says Huson. "We've been on-site in shifts every day of the week trapping kittens and cats, finding and bagging dead carcasses and cleaning up the property to make sure we clear out the colony as best as we can."
So far, Huson, Nichol and other volunteers have rescued 70+ live cats and kittens, not including the newborns that the mother cats birthed after leaving the site. A total of 153 dead kitten and cat carcasses/skulls and four dog carcasses have been gathered, cremated and properly laid to rest in the pet cemetery. Pam shares, "We believed the animals deserved a proper burial as they didn't get a chance to live a proper life. We say a prayer for every one of the lives that didn't get the chance to love and be loved."
Both Nichol and Huson spoke to Andrea Bergers , Todd Menard and from the LCHS before laying the deceased to rest to ensure it was okay to remove the animals from the property. Bergers and Menard approved their removal and cremation.
Beamsville 4Paw Rescue is thankful to the owner of the property for his help in offering them time to complete the rescue initiative and save the remaining cats and kittens.
In the 22+ years that Huson has been trapping and rescuing cat colonies, she has never seen one of this magnitude. "The cruelty witnessed on-site is heartbreaking. Cats & Kittens have starved to death and the live animals are so malnourished and unhealthy that they require immediate and thorough medical attention."
Beamsville 4Paw Rescue is extremely happy that the OSPCA has opened up an animal cruelty investigation, but questions when the investigation will start.
Neighbours have been reporting the colony for approximately a year and a half now, but no real actions have been taken until the state of the colony went public.
Huson states,
"I have asked the OSPCA on several occasions to come on the property to look at the evidence, see the dead animals that we're seeing but they don't want to look and stated they have already been in the house and property. I have photos ready to send of the bodies we've found and where we've found them, real evidence of animal cruelty, but they don't want to accept them. Why? We will not enter the home because we don't want to impede the open investigation, but when exactly is the investigation going to start? We are here for the animals and we want the suffering to end. The OSPCA reps know where the renter lives and they know how to contact the property owner. The owner, who we have been working closely with, offered the house keys to the OSPCA and begged them to go in the house to see the mess, but they refused. We are looking for answers and action."
Beamsville 4Paw Rescue is begging the OSPCA to take charge and bring justice to the animals and the community.
PSACL helped make the rescue a success by generously donating close to $3,000 to Beamsville 4Paw Rescue. All the money is going to vet bills, as each kitten/cat costs $250 or more to medically treat to ensure a healthy recovery. The rescue is so thankful for the inpourings of donations they have received and are urging the public to continue donating, as every little bit is crucial to successful recoveries. All food (high-calorie, high-quality), clumping litter, blankets and other cat products can be dropped off at either the Beamsville Sobeys or the Grimsby PetValu and all monetary donations can be made through the Beamsville 4Paw Rescue website here: www.beamsville4pawrescue.com/support-us/donations . A tax receipt is issued for all monetary donations made through Beamsville 4Paw Rescue.
In all the upset and heartbreak, Beamsville 4Paw Rescue is so happy to say that the cats and kittens who have been rescued are not feral and they will be looking for their furever homes in the next couple of weeks. Huson says, "They're all a bunch of babies. They are playful, full of purrs and love human attention."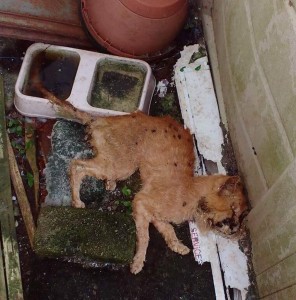 August 18, 2017 09:00 AM Eastern Standard Time
Update on the Merritt Rd cat colony.
Is the investigation really still open?
After having stated to the media that they would be closing the case due to our tampering of on-site evidence, LCHS and OSPCA announced on 610 CKTB on Tuesday that their investigation was never closed and will continue to move forward. We are being blamed for impeding on the official investigation and removing evidence from the property during our time on-site. We can confidently state that there is still untouched evidence on-site in the form of dead carcasses, skulls/bones, feces, urine etc. that clearly demonstrates animal cruelty. We have asked the OSPCA since Sunday to come and specifically view the untouched cat carcass on the property so they can have it removed and brought to Guelph University for forensic testing. The carcass still remains on-site.
In his latest media statement, Kevin Strooband states that we don't understand what's involved in a case like this. He says in order to have this stand up in court they need more than just photo evidence. We have all the evidence they need and we are continually sharing it with the LCHS and OSPCA to help propel this investigation – eye witness accounts from neighbours and the owner, detailed vet reports, time stamped photos and animal remains left on the property.  We want to work together to bring justice to the cats and break the horrible cycle of animal hoarding and animal cruelty before it happens again.
We've amended our petition to be more clear and more comprehensive of our goals moving forward when it comes to animal cruelty investigations in the Lincoln community. We need 500 online signatures to bring to the mayor, so please sign and share!! Thank you in advance for all of your love and support ❤
Please sign Petition and make a difference
About Beamsville 4Paw Rescue
Beamsville 4 Paw Rescue is a group of dedicated animal lovers who open their hearts, their wallets and their homes to abandoned, lost, and feral animals looking for furever homes. The group is a non-kill, non-cage rescue, comprised solely of volunteers who have full-time jobs but who dedicate their time and money to helping save animals lives. All donations (food, litter, animals products and monies) gathered go to helping rescue four-legged friends and their families.
"Our work is never done. Our homes are never quiet. Our wallets are always empty, but our hearts are always full."
Follow Beamsville 4Paw Rescue initiatives and find your furever friend by following the group on Facebook and Instagram.