Community Helping the Community!
Without your support our 4-legged friends would not be able to survive.
 Beamsville 4Paw Rescue is an adoption and rescue organization made up of volunteers, neighbours, businesses and friends within the Beamsville/ Grimsby and Surrounding area.
We help many families with Food and Veterinary assistance for their pets. Many area businesses and organizations help us to help you with all you may require for your Pets.
We wish to give special thanks to the members of our community !
Here are some amazing acts of kindness!For the full stoy please visit our blogs on our website!
Please visit ourPet Party webpage for those who have shared their birthdays with our 4-legged friends!

Fundraising and Volunteering
Cindi Dawe is an amazing young lady! Cindy  raise over $60 dollars in food to help feed our animals in need. On August 31st Cindy dedicated her time to come to our local foster homes to not only deliver the food but to play and give love to our kittens who are looking for a "Forever Home"
MASSAGE FOR A CAUSE
Students in the massage program at Trillim College's St.Catharines campus used their magic touch to raise funds and food and pet supplies for Beamsville 4Paw Rescue.  Special thanks for everyone for dedicating your time and coming to join the event.
Remembering  Rachel "Ray" Scott
It is with great sadness that the family announces the passing of Ray, beloved wife, soul mate and best friend of Bill for 49 years, after a valiant and courageous fight with cancer. Her family and Friend will sadly miss her. Beamsville 4Paw Rescue would like to extend our appreciation for everyone who made donations.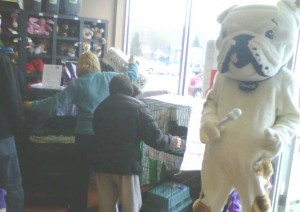 Adoption Week!
On April 14 and 15, Pet Valu in Grimsby raised over $1,500 and adopted 17 homeless kittens and Cats for Beamsville 4Paw Rescue.