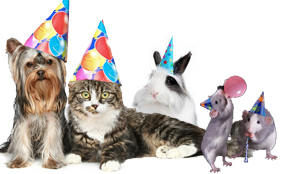 Celebrating a Special Occasion!
Beamsville 4Paw Rescue would like to celebrate your Special Day!
If you are having a Birthday, Anniversary, New Baby, New Pet or any other special occasion we would love to Celebrate with you.
For donations over $10 the person celebrating will receive a Card that a donation gift was received in their name, your submitted photo  will be advertised on our website and FaceBook.
Email us at info@beamsville4pawrescue.com for more information
Pet Parties!
We have facilities that we can host a "Pet Party" for you! Have your Friends and Family come visit our Pets and interact with our Kittens, puppies and other animals. Our Parties come with a decorated room, animal cupcakes and Birthday Card from our 4-Legged Friends.
Give a gift of "Life"!
Many people choose to give a "Gift of Life" and host a party for Beamsville 4Paw Rescue. Whether it be a donation of food, pet items or financial help we would like to celebrate with you.  We will supply animal cupcakes and posters to help you celebrate and announce your Celebration on our Website and Facebook!
Here are ways people have Celebrated their special day!