Are you Looking for a Furrever Friend? You're in luck! We've got cats who are looking for loving Forever Homes! For an adult cat, the adoption fee is $125+ and includes spaying or neutering, Fleas treatment, deworming and Vet Check.  Pets that are 7 years+ adoption fee is $75 Take the worry out of adoption. If your newly adopted Pet is not a match for your family the pet is returned directly to us. Cats will be Dewormed/Flea Treated and Spay/Neutered If you are interested in adopting or arranging a time to visit a pet please complete Online Application we will contact you within 48 hours
** WE DO NOT HAVE WAITING LIST FOR FUTURE PETS. ONLY APPLICATION WITH PETS NAMES WILL BE REVIEWED
We are all looking For a "Forever Home"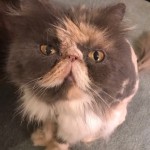 Come Visit our kittens Saturday, Dec 16th at PetValu in Grimsby (Canadian Tire Plaza) 11am to 2pm
.
Suzie-Q
Diluted Torti /Female/Spayed
Born: Dec 10 2016
Suzie-Q is a very affectionate little girl and trusting even after living in the terrible abandoned colony on Merritt road. Suzie-Q is missing most of her teeth, but is very healthy.Great with other Cat/kittens and older children.
.
Blondie
Long Hair Buff/Female/Spayed
Born: Oct 15th 2016
Blondie is an extremely affectionate girl who loves brushes and belly rubs. Great with all other animals and older.
.
Limo
Flame Point Munchkin/Male/Neutered
Born: Jun 12th 2016
Limo is a loving boy who loves to meet and greet you with Meows of Love and an affection. Great with all animals and
.
DeDe
Brown Tabby /Female/Spayed
Born: May 2nd  2016
DeDe is a very sweet and loving girl, who will play for hours with her feather toys. Great with other cats/kittens and older children.
.
Echo
Tan Tabby/Male/Neutered
Born: Feb 28th 2016
Echo lost his owner suddenly and found himself locked into his house for 3 weeks alone. Echo is an affectionate boy who loves following you around. Great with older children and all animals.
.