Beamsville 4Paw Rescue is a Non-Kill Rescue. Our program does not have shelters or kennels and depend on private foster home within the Niagara and surrounding areas.
We are in desperate need of responsible foster families to foster cats, kittens, puppies and dogs. We can only take in as many animals as we can foster. All it takes is one room and a big heart. We supply all food, litter and supplies.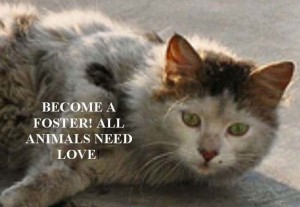 There are so many abused and neglected animals out there and we need to save as many as we can. If you feel you have enough love and enough room for just one foster, that is one more life we can save.
Why Use Fosters!
Socialization – Some animals come to our rescue after being neglected and may not have had much human contact. Being in foster care allows these animals to have special attention, which helps them get over their fear or humans and to start living in the home environment not a cage.  The animals will then send less time adjusting to their new surrounding and more time being a household pet!
Medical Care – Some animals may need medical care before they can be can find them a home.
Babies - Pregnant animals or babies to young to go to new homes are often housed in foster homes so they can get plenty of special attention.
Seeing if a pet is right for you – Besides saving an animal's life, fostering is also a great way to find out the true personality of the pet to make sure that the family who adopts is the right fit. You will have no obligation to keep fostering the animal if it is not working out for you. However we do ask that you give notice so we can locate another foster home.
Fostering To Adopt – Fostering is great if you have an existing pet and think you may like to add another member to your family. Fostering will give you a chance to see if this pet is the right fit for your family. It will also give you time to see if other pets you may have in your home, or other family members can get along with the animal before you make the final commitment to adopt that animal.